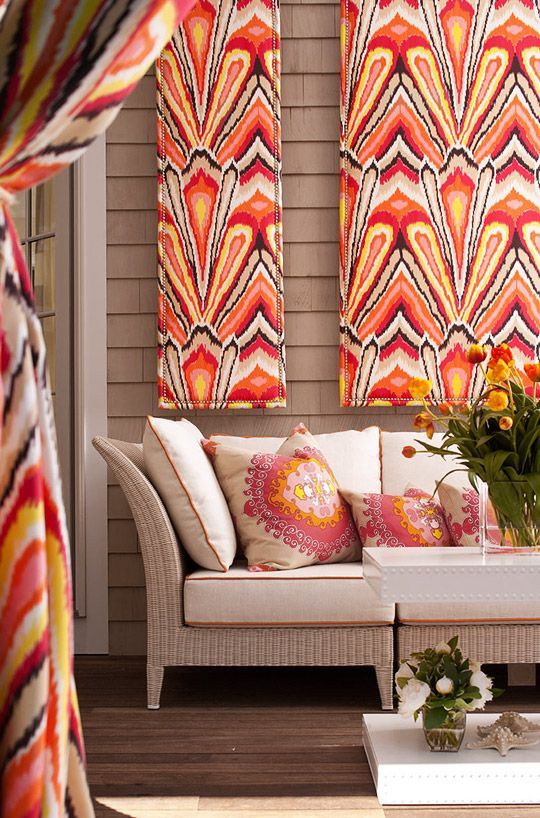 Does the thought of staging your own home overwhelm you?
Not sure where to start?
Confused about what you need to do to attract a buyer?
Worried about the competition and how much money you'll spend?
And how much time you'll devote?
If that sounds like you, relax. You're normal! Depending on the condition of your home, its price and your market, staging can happen in a day, a year, or anything in between. And the budget for time and money can range from minimal to frightening.
But one thing is certain. If you concentrate on the following simple projects, your home will look like it's had a beauty makeover, even if you don't tackle any major projects.
Add some surprises
Tips about how to stage a home always include advice about using a monochromatic color scheme. But that doesn't mean a home should look bland. The place to put splashes of color is where you want people to look.

Once you determine the focal points in your home, like the dynamite seating area pictured above, think of ways to bring attention to them. Color is the easiest way. Here are samples.
To emphasize a fireplace, stage the mantel with items that introduce a new color to the room.
When the view is special, window treatments that add color will pull the eye in that direction.
A gorgeous entryway deserves some special artwork or colorful furniture.
Strong colors on outdoor furniture will show off your home's outside living space.
A colorful headboard will add focus to a bedroom that lacks architectural interest.
Make monochrome work for you
The best-staged homes have a seamless color scheme. Here's an easy way to determine if you already have a color scheme that makes your home feel as large as possible: Ask yourself if you can move furnishings from one room to another and still have the colors looking like they belonged. Would your choice of throw pillows for your living room still look good in your bedroom? Would the curtains in the family room look good in other rooms as well?
It sounds boring, but trust me, your home will look bigger, cleaner and newer with totally coordinated colors.
This use of a simple and consistent color palette is especially important to problematic floor plans, where rooms may seem to be isolated or cramped
Big art gives the impression of spaciousness and adds a
focal point, calling attention towards one area of a room.
How to achieve this? The short and simple list is paint and fabrics. Here are examples.
Spray paint lamp bases, vases, and other small accessories that don't fit your new and improved color scheme.
Recover pillows that need a color switch.
Paint all interior walls the same color.
Use slipcovers to make upholstered pieces match.
Paint or recover upholstered pieces. Yes, it's possible.
Re-paint furniture that's already painted, converting it to one of your chosen colors.
Create a sense of place
Everyone wants to feel part of a group or family they are proud of. You can capitalize on that desire by promoting your location. Choose
what's special about where you live
– the neighborhood, the climate, the view, the history, the multi-ethnicity – and promote it in your staging as well as your MLS listing.
Here some examples of ways to promote location.
Hang a poster on the wall that advertises a local event or destination such as the annual art festival or an historic site in town.
Display tennis rackets or golf clubs in the family room to emphasize the nearby community courts or golf course.
Add coffee table books about your city, town, neighborhood or area of the country.
Landscape to emphasize your environment, like flowers, shrubs, hardscape and even garden art that is special or indigenous to your area.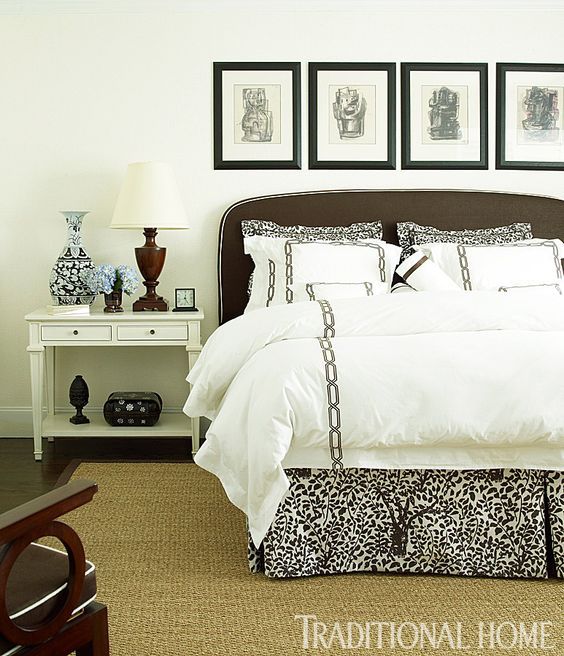 Just because a room is decorated around a simple color scheme --
as in this black and white bedroom -- doesn't mean the space will look dull.
Go big or put it away
Oversized accessories are what give a space some weight and importance. Get rid of the small stuff and substitute some accessories with mass.
The easiest way to accomplish this is to do a walk-through of your home and make a decision on any item smaller than a coffee mug. Ask yourself, does it add appeal to the room? If you decide it should stay, and it is small, you can
cluster it with other items on a tray
, mantel or shelf. If it's too functional on a daily basis to discard, can you stash it inside a handsome container?
Anything small in this beautiful vanity area bath has been gathered in
a basket to reduce visual clutter. Photo: Traditional Home
Here are suggestions for supersizing.
Remove small area rugs unless essential to keep outside dirt from entering your home.
Clear countertops and stage with big, decorative items. Hide the unsexy things inside pretty things.
Replace small lamps and other necessary furnishings with simple, larger ones.
Store small decorative items until you move to your next home.
Clean up your bookshelves by removing small items.
Replace small wall art with larger pieces, and yes, you can DIY big art!
You've got this
Beauty is in the eye of the beholder, but there are certain universal features that all eyes agree on, like cleanliness, spaciousness, and comfort. You can make a home more beautiful and irresistible to buyers by focusing on those desires.
Are you staging your own home? Do you stage other people's homes? You'll find advice like this and so much more in
my $4.99 eBooks
.

Top image: Traditional Home