The song says it all. "There's no place like home for the holidays." You're selling your home, so why not capitalize on the nostalgia of the season by making it as warm and inviting as possible to visiting house hunters?
My friend Tricia, who once upon a time blogged at her site, A Rosy Note, knows how to use soft colors and beautiful textures to make a house a home. Her dining room pictured here is decorated for the holidays with pink, red, silver, and greenery.
At holiday time, adding greens like this rosemary plant and poinsettias are a natural. Imitate this look and you have all that's called for in a staged, seasonally appropriate room.
The staged home
When your home is on the market may not be best time to splurge on over-the-top holiday decor. Going all out with lights, ornaments, garlands, collections, wreaths and bows has a few disadvantages.
One difficulty is that seasonal decorations could take money from your staging budget, a budget that will buy you props that will look good now and still look good in January.
Another problem with going overboard with holiday decor is it can distract from the natural good looks of your home. Some buyers may even think the theatrics are hiding problems.
And then there's the time factor. Between the usual celebrations and keeping a home show-ready, you have enough to do.
The solution
What's best for home staging is to place some big and inexpensive seasonal decorations in the right places.
A simple grouping of thrift store glassware could go anywhere -- a mantel, a dresser, a kitchen counter, or top of a bookcase. Forget the fresh flowers and fill them with silk or paper flowers. You say your silk chrysanthemums are yellow and your silk carnations are pink? Spray paint them red, white, or pale green.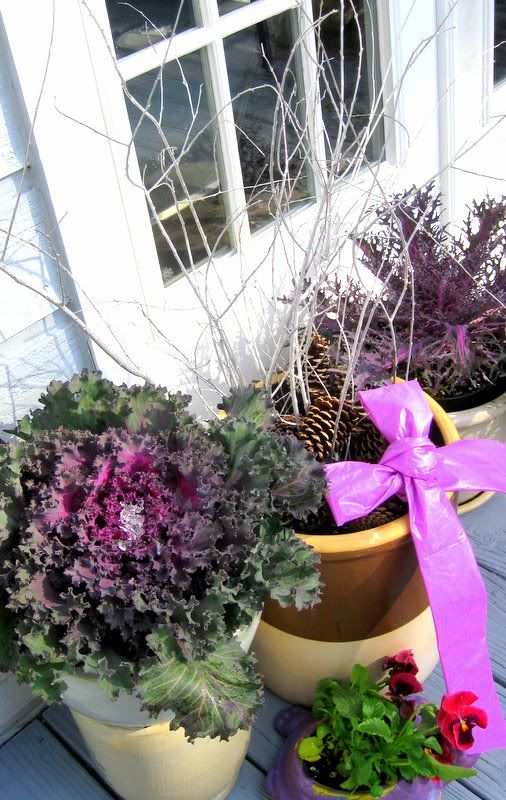 An outside entranceway, whether a front door, back door, or even a side door, begs for a seasonal touch. The budget-happy approach is to use what you have and use what nature provides. Yes, I had to purchase a couple of $5 kale plants, and some pansies.
I sprayed bare branches with silver paint, collected pinecones, and put them in ceramic crocks I own. The bow is made from a $2 vinyl tablecloth.
Even those of us who love to decorate don't enjoy the part about taking it all down. One easy decor item to put up
and
take down is a wreath. Wreaths are usually large, one-piece affairs, unlike intricately decorated Christmas trees, or collections of teddy bears and Santas. You can hang or prop a wreath in all kinds of places, and you're home free.
Foolproof formula
When in doubt, go with something bright. Now's your chance to bring out serving pieces that live most of the year in the back of a cabinet or closet. Even if you have already decluttered, shop your home for silver, brass, and glass. Then add some shiny strings of beads and some silver or gold ornaments, but nothing so precious it might grow legs at an open house or home tour.
Kitchens are so important to buyers that the more homey and at the same time luxurious you can make yours, the better. I love a simple but glitzy circle of faux gold berries or plastic ornments, which would be fast and frugal to imitate using craft store and dollar store finds.
Readers of my
eBook
,
DIY Home Staging Tips to Sell Your Home Fast and for Top Dollar
know that I'm big on greenery as a prop for staging. In fact, I like to see some kind of living or pretend greenery in each room. The book includes a list of what every room needs to appeal to buyers.
Happy holidays!
I hope the holidays you celebrate next year are in your new home, decorated exactly to your heart's content, as elaborate or as simple as you want it to be.