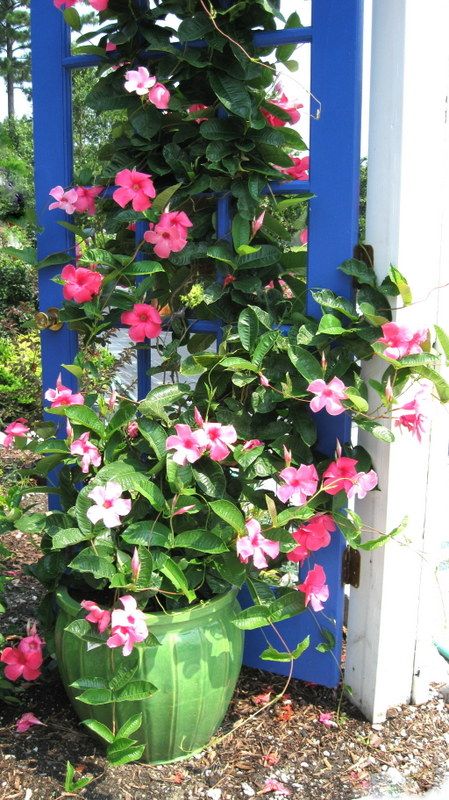 I'm forever singing the praises of silk plants and flowers, but when it comes to adding curb appeal with real, fresh flowers in containers, I'm singing even louder.
Books have been written about the ins and outs of container plants – the right soil mixture, the right containers, the right location, the right plants.
I want to limit my advice here to how these plantings can earn their keep when your home is for sale.
Here's what containerized plantings can do for you, the home seller.
Hello!

They will greet home buyers at the front entrance with something fresh, alive, and colorful. Just keep them close to the door.
Look!

They draw attention to a selling point, such as a view, an unusual amenity, or a recent upgrade. Just keep the planting subtle so it doesn't overpower the selling point.
Don't Look.

They hide less than perfect or not so pretty features of your property. Just place them so they distract the eye.
Define.

They emphasize the style of your home, for example, cottage, contemporary, mid century modern, country, urban, or Mediterranean, to name a few. Just match the style of your containers and plants to the mood of your home.
Transplant.

They make it easy for you to pot up your favorite plants in preparation for the move to the next home. Just make them look like they are part of your staged exterior.
Fluff.

They can fill in bare spots in a sparse or boring landscape. They can dress up a walkway, or spiff up a shady sideyard. Just keep the containers large for that lush, high-quality appearance.
There is no rule that says window boxes must contain flowers. These hayrack baskets are
planted with caladiums, and decorate the shady side of the home.
Point.

They can keep the eye moving around an exterior space such as a porch or patio, so that the entire area gets noticed. They can even act as directional aids, encouraging people to "walk this way." Just keep the containers in the same family for a unified look -- all clay, all metal, all stone, all wood, all baskets or all ceramic.
Upgrade

. Good quality flower pots are impressive. They can elevate the quality quotient of a house. Even inexpensive plastic pots can be faux-finished to look like granite or concrete, or weathered stone, so there is no excuse to have cheap-looking planters as part of your home staging. Just make the investment in time or money, and keep the pots when you move.
Transform.

They make an area look more friendly and comfortable. Plants in pots can convert a concrete slab into a refreshing oasis, a balcony into a private retreat, or unused porch into an outdoor living room. Just concentrate on what areas you want to emphasize to avoid a funeral parlor look.
Distinguish.

A striking container plant, or a group of plants in attractive pots will set your home apart. When people go house hunting, they often view a few houses in one afternoon. That bucket of fluorescent double impatiens on your front porch might be the sweet, identifying marker home buyers remember when they mentally review the homes they toured. Just make sure the plants look tended, not neglected.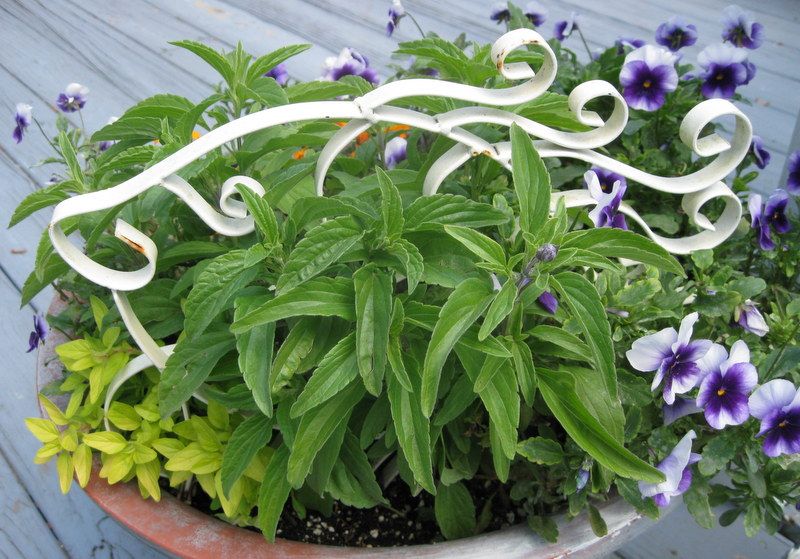 If the plants you use do not fill the container completely, or you don't have a focal point,
some kind of sculpture or whimsical garden ornament can rescue the arrangement.
I found these ornamental peppers growing in urns outside my hotel in Saint Augustime,
Florida. To me, they captured the spirit of a sunny location. Plants can remind
home buyers of the kind of climate they are buying into.
The trailing ivy in this handsome planter box will look good all year long with very
little attention. It compliments the simple lines of an old fashioned home. Coleus is another
low-maintenance, foliage plant, but is grown as an annual, unlike this ivy.
A traditional home calls for traditional plantings, and these red geraniums in
wooden window boxes were the perfect choice.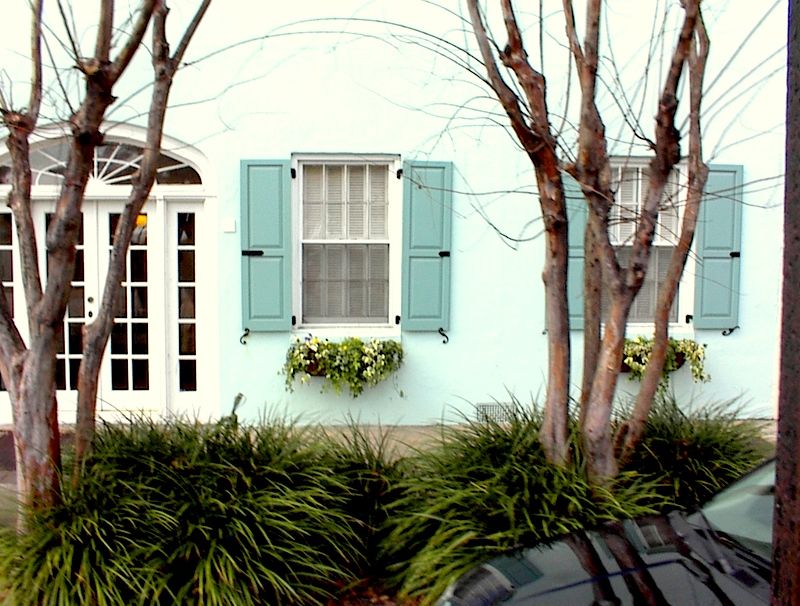 I took this photo in Charleston, South Carolina. The soft plantings in almost invisible
window boxes added just the right amount of color to this elegant facade.
My message

here is that plants are powerful. But if they are going to work for you, the home seller, they had better look healthy and appropriate to the setting.
It took me years to learn how to create

long-lived containers of gorgeous flowers instead of

ho-hum or problematic containers of plants.

Some secrets I learned along the way:
For container plantings to live up to their potential, it's often advised that they follow the "Thrill, fill, and spill rule."
The "thrill" plant is usually a single, dramatic, tall plant that serves as the focal point that gives height and structure to the arrangement.
The "fill" plants make up the bulk of the planting and cover the surface of the soil mix.
And the "spill" plants cascade over the edge of the pot, softening and grounding the grouping.
But, as my examples show, it's not always necessary to include all three of these plant choices. As a DIY home stager, sometimes you just want some greenery in a space to freshen the look. Or you want to add an accent color to a lacklustre garden area. Or a simple focal point to a porch.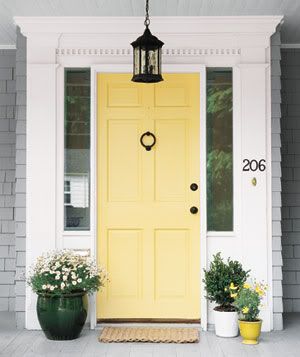 Yellow flowers and yellow pot highlight this
friendly front door. Source: unknown.
The most popular location for a container planting is by the front door. For this spot, choose plants that will give you all season color, that don't need extra attention like twice-a-day watering. I prefer annuals over perennials because the bloom time is longer.
Another option is to limit your choices to large foliage plants. You might discover everything you need in the houseplants section of your nursery. A healthy, typical houseplant -- usually a tropical plant -- will be happy for many months in a shady corner of your porch or deck.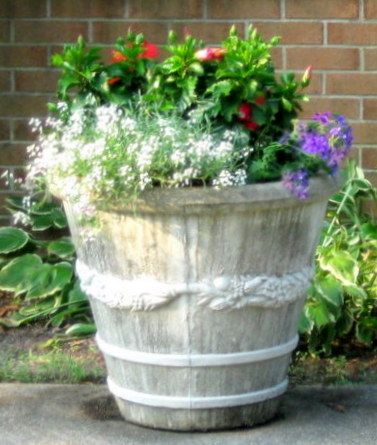 This pot was placed along the side of a house,
leading people towards the backyard.
Balance.

Choose a pair of topiaries to flank your entrance if you want to add some formality and balance to the front of your home.
Highlight. Choose colors that highlight the best features or focal points of your home's exterior, like the front door, unusual architectural features, or any special details or niceties.
Color.
Choose either bright, saturated bloom colors, or muted pastels. I prefer to go with one scheme or the other in each container -- either saturated or subtle. White blossoms and most greenery will compliment either of these color schemes. If your arrangement is monochromatic, such as all pinks or just greenery, make sure there is a variety of textures.
Tip:
Choose pots that drain well. Plants die when their roots can't receive oxygen. They don't get oxygen from stagnant water, so water has to percolate through the soil mix. As a home seller, you do not want to showcase dying or sick plants, and you do not want to fuss with removing and replacing interior pots every time you water your plants.
Timesaver.
Choose plants that are "self cleaning," the nursery industry's term for flowering plants that do not require deadheading. Unless you find it therapeutic to inspect your flowers and gently remove spent blooms on a daily basis, look for self-cleaners. Impatiens do this. Marigolds and geraniums don't.
Grow.

Choose a soil mix that contains a slow release fertilizer, so you can sail through most of the summer without dealing with that chore.
Use a soil mix made especially for potted plants.
What not to do: Cluster a sad collection of small, unimpressive plants in uncoordinated pots.
Plants are a must.
During the spring, summer and autumn months, most people touring homes on the market expect to see fresh flowers growing in boxes, baskets, or pots. Even if you have a tiny set of front steps, or a fire escape off one window, don't disappoint them with nothing at all, or with dying plants or tacky
yard art.
By following some simple guidelines, you can cash in on the magic that plants add to any home.
For more tips on how to prepare your home for the real estate market, download my $4.99
eBook
,
DIY Home Staging Tips to Sell Your Home Fast and For Top Dollar.
I promise you won't be disappointed!