If your home could talk,
would it say to a prospective buyer, "I've lived a pampered life. My owners give me the best of everything. All that you see here is fresh and new and of the highest quality?"
One simple way to get that message across is with greenery.
And I'm not talking labor-intense house plants.
I'm talking silks.
Don't be turning up your nose. Here are ways to make silk plants look better than their pedigree might indicate.
My first tip
is to
choose a

variety

of containers

,
and a variety of plants. Look for baskets, vases, wooden boxes, clay flower pots, vintage vases, new vases, ceramic cachepots, hurricane chimneys, glass fish bowls, metal bins, or whatever else you think adds to the character of your home without distracting the people who come to tour it.
To vary the greenery itself, mix cut "flowers" with "live" plants. You might have a decanter of roses in the bedroom, two topiaries in the foyer, and a fake cactus in the bathroom. Silk plant styles come and go, but unless you are staging something for an very hip market, like a New York City penthouse, a Hollywood mansion, or a St. Martin beach house, you're safe with most styles available in home stores today.
My second tip
is to
cover the surface
in a potted plant with something that looks convincing. My favorite is sheet moss, but I also like spaghnum moss. Both really work to ground the plant and add a realistic touch. I also favor smooth river rocks to cover the surface under a fake plant. Look for other natural materials like sand, shells, pebbles, and lichen.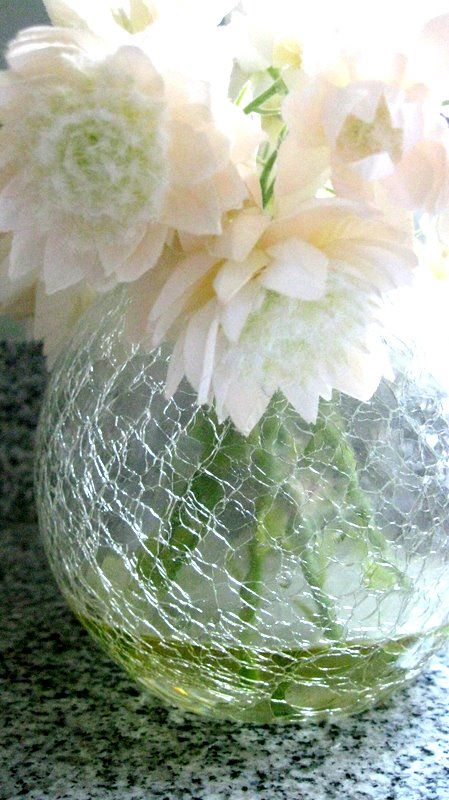 Next,
use good vessels
for all your fake flowers. In fact, a rule of thumb might be that the less you paid for your silks (hello, dollar store), the more expensive your container should be. In my photo, this beautiful crackled glass bowl holds an inexpensive bunch of silk blossoms.
To add to the realism
of these blossoms, I've added gel that imitates water. Available at any craft store, faux water makes the flowers look like someone was just there arranging them -- an important consideration when your property is staged but unoccupied.
Readers of my
eBook,
DIY Home Staging Tips to Sell Your Home Fast and For Top Dollar
, know the high value I give to silk plants. Why? Because they add an irresistible vitality to a room. If you doubt this, do your own experiments with adding and subtracting plants and flowers.
I always emphasize that your greenery needn't be the finest quality, especially when seen from a distance, such as on top of a bookcase or on the ledge above a bathtub. Typically, house hunters spend 30 minutes or less walking through a home on the market. Relax. Your budgeting secrets are safe.
Another way
to keep the faux greenery from looking phoney has to do with what you put next to these arrangements.
Surround them with class
-- other objects what have a stylish look of their own, and the whole grouping looks classy.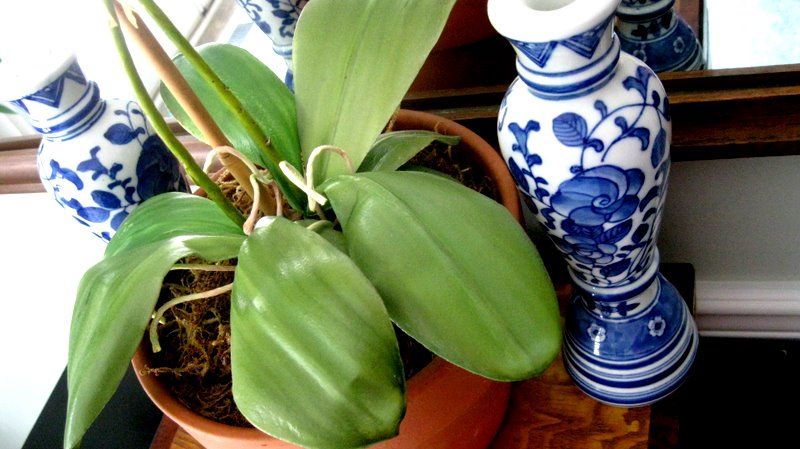 This pretend orchid sits in a real terracotta pot, on an antique music box of burled wood, in front of a large, beveled edge mirror, next to colorful, matched candlesticks. Decor props as well as people are judged by the company they keep.
One mistake that homeowners are sometimes guilty of is thinking that faux plants require no care. In fact, the cleaner your plants look, the more they will contribute to the room's overall appearance.
So my fifth tip is to
clean your plants.
Most silks can be rinsed in the tub or gently hosed off out-of-doors to bring them back to "life" occasionally.
The containers that hold your fabulous fakes need to be smudge-free and dust-free as well.
Hey, at least they don't beg to be watered every few days.
If you do have
a green thumb and a collection of house plants, make sure they are healthy and clean as well. The reason I don't recommend staging with real house plants is that often they are in less than perfect condition, or in their dormant state.
Yet, if you have a shelf of beautifully blooming African violets in your kitchen, or a collection of gorgeous indoor succulents on your sun porch, they can become an important part of your home's staging.
Often indoor house plants are large potted plants, but sometimes they are small and insignificant. Find a new home for these little guys. Big is better with almost all staging props.
In fact,
when in doubt about the size of a fake plant for staging,
supersize it.
A large plant can fill an empty corner, bring life to a dreary hallway, or add color to a plain bathroom. As long as you aren't crowding the room, obstructing a good view, covering up a focal point, or creating a tripping hazard, I say, the bigger the better.
One current sty
le
that's easy to imitate is a stem or two of oversized tropical foliage in a large glass container, with or without some fake water, or with some rocks or shells to weight the vase. It's a very carefree, young look.
My final tip
is to
add some age
. Let your container be something with patina. Many decorators suggest that every room needs a touch of something old.
Adding a vintage or distressed clay pot, metal urn, concrete planter, classic ice bucket, worn wooden box, antique wastebasket or old- fashioned wicker chest that's been around awhile, adds interest. It keeps the room from looking like you pulled it all together with one trip to J.C. Penneys.
Slight distressing on this old clay flower pot makes the one dollar fake ivy more acceptable than if it were in a cheap plastic container. I've covered the floral foam in the pot with stones gathered from the beach.
Don't be shy about dressing up your staged home with some inexpensive artificial plants and flowers. Done right, they add the perfect element of freshness and even drama that's essential to a home for sale.
Get more of my helpful advice on staging your own home by downloading my
eBook
,
DIY Home Staging Tips to Sell Your Home Fast and for Top Dollar.
It's a $4.99 pdf bargain, that comes with my money-back guarantee.