I have an 18-year old nephew. When he was three, he saw a bowling tournament on TV and
immediately set up bottles and made his own game with a rubber ball
. Just to keep him happy, his mom dubbed a video of professionals bowling and, today, he bowls 300 and holds local and national records for his age.
One of my daughter's best friends in high school would
blow her whole allowance every weekend at the movies
. Usually, she'd take my daughter with her, and I wondered how those girls could waste so much time. After college, that young woman went to straight to Hollywood, took an apprentice job, and in a few years was a millionaire screenwriter.
A good friend of mine has a son who seemed to
spend his childhood reading comics and doodling
. Guess what? Today he is an art director with a video game company, a job he loves, making more money than he can spend. Well, almost.
I may not be a child prodigy home stager, but
some of my earliest memories are of spending hours on the floor rearranging the furniture in my beloved dollhouse
. Like the bowler, the screenwriter and the artist, my mind has always been preoccupied with one thing. In my case, it was making homes look better.
My first job after college paid me just enough to rent a studio apartment in a Boston brownstone
. It was advertised as furnished, but I could count the pieces of furniture on one hand—a bed and a screen to hide it, a refrigerator, a chair and a table for the hotplate that constituted the kitchen, and a sofa in front of the fireplace. The shared bath was down the hall. To my mind,
my new home cried out for help
. The ceiling was high and adorned with the rosette where a chandelier once hung. One wall featured two eight-foot-tall windows with sills deep enough to sit on. The fireplace was marble and the floors were hardwood.
On my limited budget (I brought home $66.77 weekly, but it was 1964)
I was able to slowly give the room the embellishments it demanded. Curtains came first.
Although I had never made slipcovers, I knew how to sew, and set about to slipcover the sofa and a chair I dragged home from the curb. I took a landscape painting class and hung my works of art. Someone gave me a rug. My parents gave me a chair. I could invite someone to dinner!
When I left Boston for New York a year later, my landlady bought the curtains, the slipcovers, and the paintings.
I like to think that my improvements helped her find the next tenant and I like to think of this episode as my first staging experience
. But it would be 1998 before I heard that word, staging, used in connection with real estate. While visiting a friend in California, she told me that her home was on the market and that her Realtor loaned her towels for the bathroom. My friend was instructed not to use these towels under any conditions, and that this approach to selling a home was called staging. I was fascinated.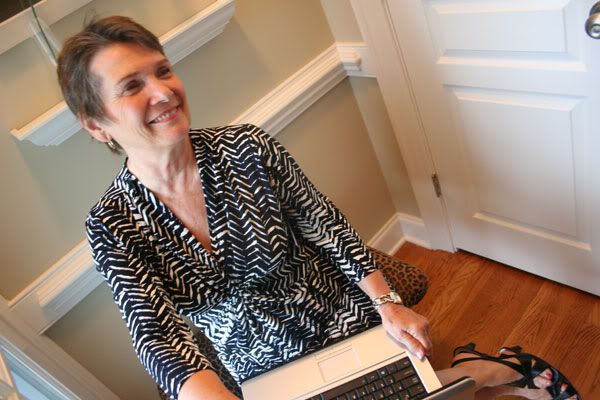 Over the years I have lived in many homes, some rented and some owned
. A high rise apartment near Lincoln Center, one floor of a townhouse on East 37th Street, a studio in the West Village, and a loft on the Bowery before the word Soho was coined. For a few years I lived communally in both Boston and Tucson, studying and teaching natural foods and cooking. After that came a one-year stint in the high desert of northern Arizona, on 240 acres. With a dozen other people. In tents. From there I moved to beautiful San Francisco for two years, and lived in a spacious, modern home across from Buena Vista Park, and later in a sweet little Marin County garden condominium. Next came a traditional adobe home in Santa Fe, New Mexico, "the city unique." Then I moved north to Boulder, and lived in an old Victorian house on a tree-lined street. After that came a traditional Florida bungalow with a pool in Coconut Grove. Finally, I moved to North Carolina, first to a 1940's farm house in the mountains, and then to a 1980's ranch house at the coast, where I live now.
In each of these homes, I created an environment that suited me and my growing family.
Usually, I furnished and decorated on a shoestring because there was always something more financially demanding
. Sometimes we moved our furniture and sometimes we started over. Even when I lived in a tent, I was rearranging the rocks around it to make it more attractive. Fifteen years ago, when my widowed Dad died and I flew to Connecticut for the funeral, I stayed in the home where I grew up. When my brother, who lives nearby, asked what I was doing with my time in the house, I said, "All the things I haven't been allowed—leaving the lights on, running with scissors, and rearranging the furniture." I was joking only about the scissors.
I have a friend I know I can count on for advice about clothes. She just has the knack for what looks good with what. She knows the current fashion trends, this season's colors, and what lines are flattering on anyone. I didn't get that gene. But I am the one that my friends have always come to for decorating help.
What color should I paint this room? Can you make curtains for me like those? Help me hang these pictures. What's wrong with my shrubs? Come furniture shopping with me.
My friends asking for advice know
I won't bust their budget
to pieces because they know
I am Ms. Thrifty!
I grew up among traditionally frugal New Englanders. My parents had skills that made them enviable role models—
carpentry, sewing, gardening, repairing, and that special skill of resisting the urge to own the newest thing to hit the shelves
. So when the green movement went mainstream and made recycling, repurposing and buying second-hand not only acceptable but the fashionable thing to do, I was like all over it.
I wish I could scoop up every ugly house, fix it and sell it. Instead, I decided to write a book about adding value to homes through staging. In fact,
I've purchased, staged, and sold over a dozen homes—and helped countless others do the same
.
I hope that my
enthusiasm for beautifying a home for the real estate market
is contagious. I hope that what I have learned can help you make money. I hope you enjoy reading
my books
—and staging your home.
I would love to hear about your home staging experiences
. You can leave comments, questions, and photos on the
Facebook
group page. You can also keep up with me on
Pinterest
and
Twitter
.
Warmly,
Barbara Pilcher
<a href="http://diyhomestagingtips.blogspot.com/"><img src="http://i743.photobucket.com/albums/xx78/sweetfaerie/DIY%20Home%20Staging%20Tips/blogbutton125.png" /> </a>