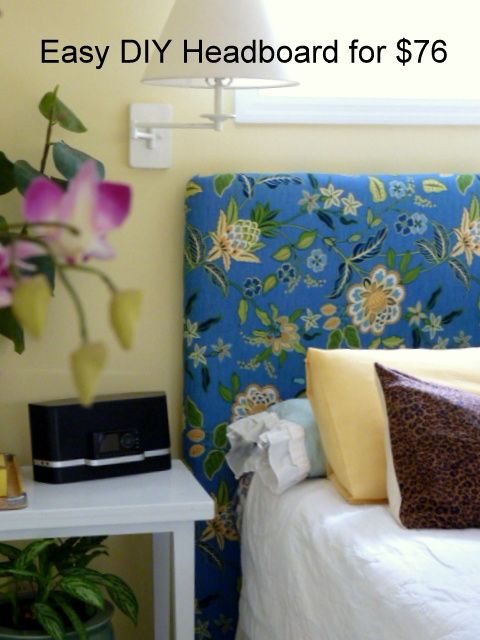 Need a tutorial for a DIY headboard?
No problem.There's a gazillion of them in blogland.
But I wanted to design a headboard that was perfect for staging a bedroom. I wanted it to be --
Lightweight so it could be moved easily when you move
Self-supporting so you don't mess up your newly painted walls with hanging hardware
Inexpensive so you don't spend money you could use for other home staging decor
Quick and easy to make because you have enough to do getting your home ready to sell
Attractive enough to be the focal point of a bedroom, and add value to your home
her blog, MayRicherFullerBe
. Her version fit all my criteria for a headboard perfect for staging.
2 10-foot 2 x 4s
4- x 8-foot sheet of 3/16-inch hardboard (wall paneling)
24 1-inch paneling nails
4 zinc corner braces with screws
Hammer, screwdriver
2 Yards of fabric at least 54 inches wide
1-inch thick foam for extra long twin bed ( 39 x 80 inches)
2 1/4 yards quilt batting, 110 inches wide
Stapler and staples
Yardstick or measuring tape, scissors
Spray adhesive or painters tape
When you buy the 2 x 4s, have the store cut them into four lengths, each 55 inches. You'll have some waste. I bought fir because it weighs less than pine. It's also softer than pine, so stapling takes less effort. This lumber cost me $13.
Have the store cut the hardboard into a 4-foot x 62-inch piece. You'll have a nice leftover piece of "project paneling" to take home if you want. You can adjust these measurements if you prefer a headboard that's not as tall or if you have a queen or twin bed. The hardboard cost about $12.50
If you want to make a tufted headboard, buying standard pegboard with holes in it will make your project easier. I opted for simple -- no tufting, no nailheads -- just padded.
Lay the 2 x 4s on the ground or floor so they look like the above photo. Lay the hardboard on top (in the photo, it's on the bottom, the next step). Align the 2 x 4s accurately with the edges of the hardboard so that the corners are squared. Drive a nail into the hardboard at each corner and then at intervals of about 10 inches all around the four edges so that they go into the center of the 2 x 4s.
Screw the corner braces in at the corners as shown. These braces will strengthen the headboard. Lowes sells them in a package of four with screws for less than $3.
Lay the headboard on the fabric, adjusting it so there is enough fabric all around to wrap and staple. If you have more than enough fabric, trim it all from one side (assuming you do not have to center the fabric design). This way, if you want to use the excess fabric for some other decorating project, you'll have one piece rather than two narrow pieces.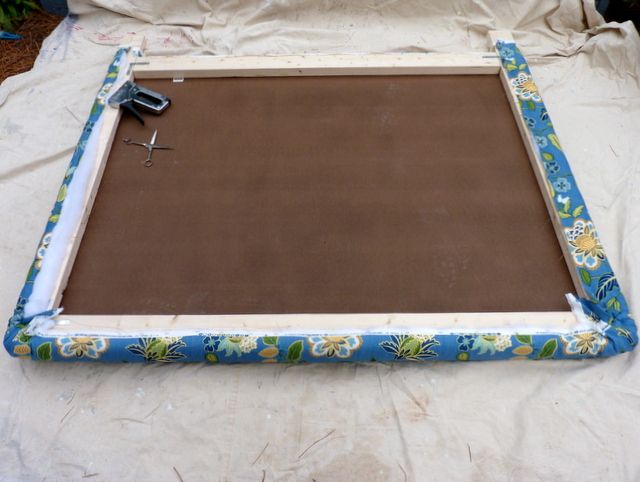 Staple all four sides of fabric to the 2 x 4s, starting in the center of each side, and working out to the corner. To keep the edge from looking wobbly, pull fabric out and away from the center when stapling, rather than pulling straight out. To make smooth, rounded corners, start by stapling them at the very corner, and then work toward the sides by pleating the fabric.
You can choose to attach the headboard to a bed frame with bolts, but it's probably not necessary. I propped this against the wall. Because the feet are sturdy, it's stable once the bed is against it.
A staged bedroom isn't complete until it has a focal point, and it's usually the headboard. An attractive one like this, made from a fabric that ties all the other elements of the room together MAKES the room. And now you know how to make one yourself that's perfect for staging.
If you have a home for sale, download my home staging
eBook
,
DIY Home Staging Tips to Sell Your Home Fast and for Top Dollar
.