Any size mirror adds an extra dimension to a room, but big
ones like this one really earn their keep. DreamyWhites blog.
You say you're getting your home ready for market? Or your home has been on the market and you're not getting offers?

Let's look at staging solutions that work for any home, the solutions that really make a difference.
Prioritize.
Do focus on the kitchen and baths.
Concentrate your time and money on making these rooms beautiful.
Kitchens and baths
cost more money to remodel than other rooms, so if yours are outdated, compensate with extra cleanliness and extra décor luxuries.
Or expect buyers to use obsolete fixtures and appliances as bargaining chips.
If you are really motivated, your best bet might be to bite the bullet, and invest in new kitchen appliances and bath fixtures.
Reflect Light.
Do place a mirror in every room. A mirror is one of your best staging props. One mirror can sell a room, because it will fill an empty space, or brighten a drab corner, or increase the apparent size of a room.
Don't limit mirrors to just baths and bedrooms. Foyers, hallways, and even kitchens can sport mirrors. For what they cost, they are excellent investment pieces that you can take with you when your home sells.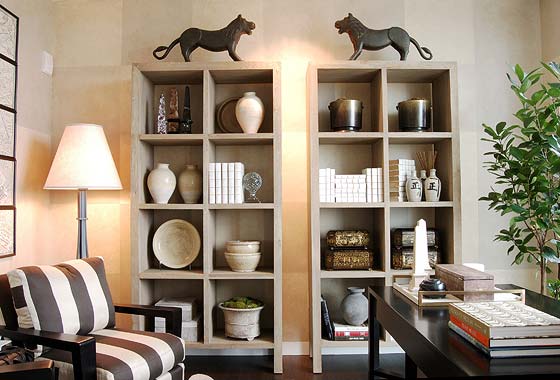 One large plant in this room is all it took to take the hard edge off the
simple color scheme and overly modern vibe. Henry Brown Interiros.
Freshen Rooms.
Do
include greenery
in every room. Do you have a live plant, some cut foliage, or a silk plant or flowers in each room? Get rid of small house plants, and bring in the large and lovely stuff that impresses people, and brings a room to life.
Pretty Up Storage Areas.
Do stage closets and inside cabinets. Yes, buyers look in these areas. If they are crowded, sloppy or ugly, that's the feeling that buyers walk away with. A well-staged closet is organized, clean, and even scant.
Storage areas like these are your opportunity to suggest the lifestyle any home buyer wants to step into. Examples: A colorful hatbox on your closet's top shelf, some gourmet foods in your pantry, or some beautiful toiletries in your bath vanity.
Add "Jewelry."
Do make sure that trim paint is fresh or very clean. When the woodwork around doors and windows, the baseboards, and any crown moulding is newly painted (or looks that way), your rooms sparkle.
Savvy buyers know that painting trim is time-consuming, tedious, and requires more skill than painting walls.

They don't want to do it themselves, and they don't want to pay to have it done.
Get out your magic eraser before deciding whether or not your trimwork needs painting. Clean it up, touch it up, or else repaint it.
People Are Curious.
Don't display family photos. Decorating with pictures of yourself and your family and friends is distracting, and takes the buyer's eye and mind off your home's best features. You'll be ahead of the game if you don't use any art work with a face.
Get Up to Speed.
Don't decorate with colors that were popular decades ago. Concentrate on the
colors that look new and modern
. An old home painted in today's trendy colors rates better than one done in the mauves and forest greens of the 80's, the pinky beiges of the 90's, or the browns of the 00's. Contemporary décor suggests that your home's infrastructure – the plumbing, heating and cooling, electrical systems, foundation and roofing – are all up-to-date as well.
Empty is Good.
Don't fill every space on bookshelves, counters, and tabletops. Leaving some spaces open is pleasing and restful to the eye. It's breathing room, and gives the impression that there is plenty of room for everything in your home.
Aromas Matter.
Don't ignore the importance of scent. You may be accustomed to the everyday aromas of your home, but people touring your home will pick up the scent of the litter box that wasn't cleaned, the basement where
mildew is a problem,
or the laundry room that smells like old shoes.
Bring in a good friend or your Realtor, to sniff test your entire home, and give you an honest opinion.

Do not fear off-white walls. They are less likely than colors to be deal-breakers. Some blues
add life to this room, but buyers know they have a clean slate to start with. Photo: BHG.
Be Generic.
Don't decorate to please yourself. Decorate to please most people. Generic doesn't have to be boring. Neutrals and simplicity can be beautiful on their own. Count on a variety of textures and large props to be the finishing touches of your decor.
When you are choosing paints colors and decorating styles, it helps to know the likely demongraphics of your buyers. Listen to your Realtor to determine the kind of people who are your target market. And follow the advice I give in my $4.99
eBook,
DIY Home Staging Tips to Sell Your Home Fast and For Top Dollar.
You'll learn all the tricks and techniques that make your home the one your kind of buyers are looking for.
The Take-Away: If you want to sell your home fast, and you want to pull as much money from the sale as possible, review these do's and don'ts. The real estate market might be crowded, but it doesn't take major renovations and expensive decorating to make your home stand out from the competition.