If you want to stage to sell, steal some ideas from Scandinavia. These Nordic people know how to make a house look spacious, clean and charming.
Here is a list
of the winning elements they use to get that effect:
Leggy furniture that shows off square footage.
A sophisticated, but friendly, color palette.

Simple or strong graphics that offend no one.

Smooth and natural wood finishes.

Painted and distressed furniture that makes a room feel lived in.

Crystals and mirrors that capture the light.

Textiles like smooth cottons and nubby linens.

Accessories where form follows function.

Affordable prices.
Furniture that mixes well with other styles.
It's no wonder that Danish modern, Swedish, and other Scandinavian styles are ideal for home staging.
I doubt that
anyone will purchase all new furniture for staging, but if you own pieces that are Scandinavian-influenced, keep them in the mix. If you are shopping for additional elements to stage your home, here's a look to imitate because it's a timeless, elegant and fresh look that makes people feel welcome and at home. That's exactly the look of a well-staged home.
Scandinavian furniture and fabrics have an valid reputation for beautiful style. The countries of Scandinavia -- Sweden, Norway, Denmark, Finland, Iceland, and Greenland-- share those honors.
From Sweden
we get IKEA, Saab and Volvo, and the popular Gustavian style furniture (not to mention meatballs and Absolut vodka!).
From Denmark
comes Danish modern furniture -- a style that's especially suitable for staging because it's handsome, lightweight, economical, and coincidentally scaled for most American homes.
Finland
is home to famous Marimekko fabrics, loved by women from Jackie Kennedy's day to Carrie Bradshaw's time.
Are there any new ideas you can incorporate into your own home from the following collection of Scandinavian-influenced interiors?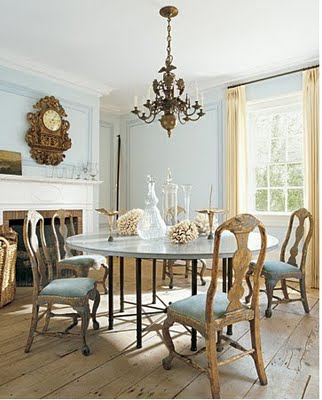 Because there is scant natural lighting in winter months, Scandinavian design always welcomes sunshine. Surfaces are often reflective, windows are not covered in heavy treatments, and paint colors are light. Photo: TheSwedishFurniture.Com

Although it can look sparse, Scandinavian design is also charming because of its subtle combination of curves and straight lines. There is always a well-scrubbed feel to these classic rooms, a look worth aiming for in home staging. Photo: TheSwedishFurniture.Com

Never have neutrals looked so inviting. What this kind of bedroom lacks in razzle dazzle, it makes up for in serenity. Decorating with subtle variations of one color, such as this bedding, wallcovering, and Gustavian styled headboard, contribute to a seamless look. Photo: Country Swedish.

Nothing needs to be new or top of the line pricey when you decorate Scandinavian style.
Distressed case goods, simple textiles, and pastel paints are the kinds of
things that treat your wallet well. Photo: Tone on Tone Antiques.

Swedish-inspired interior decor is especially attractive to women, the primary deciders when it comes to home purchases. In this room the subtle florals and the intimate seating group (the bench is typical Swedish style) are female-friendly without being too feminine. Photo: Indulge Decor

One of the advantages of staging Scandinavian style is that the furnishings work well with most homes. Even outdated elements of your home could become charming assets when a surrounded by simple pieces like this wooden bench, chair and bookcases. Indulge Decor and Jane Moore Interiors.
No discussion of Swedish design would be complete without mentioning the unique Gustavian clock. Although this photo shows a brick floor, I know there are homes out there with embossed brick vinyl floors that could be staged like this. Photo: Jon Monson and L. Langdon Ergmann.
The universal appeal of Scandinavian style makes it worth copying when staging your home. If you just paint some of your dressers and tables soft greys and blues, hang some breezy white curtains, find some leggy seating to upholster in pastel checks, add gilded mirrors, and leave your wood floors bare, you're halfway there!
And for more ideas
and inspiration to help you prepare your home for the real estate market, download my
eBook
,
DIY Home Staging Tips to Sell Your Home Fast and For Top Dollar
. You'll get more than 150 pages of sound advice, including window treatments, pillows, mantel staging, budget baths, landscaping, organizing, furniture arranging, lighting, rugs, artwork, and so much more.