Does your home staging project start with empty rooms? Then, simply go with blues and whites and you can't go wrong.
Do your staged rooms need a little more life?
Just inject some blue and white accessories, and you'll provide all the energy they need.
These are the plates on my kitchen wall. I bought the two fish plates when I visited my sons in Seattle, so I always think of them when I look at this wall -- everyday!
The souvenir plate is a tacky, thrift store find that I like because it features scenes along the New England coast, where I grew up.
And, of course, every home needs some Blue Willow.
There's something fascinating about blue and white. Unlike other colors, all blues go together, which means decorating mistakes are difficult to make.
The Magic of the Classic Combo
The color consultants might jump all over me, but I adore a mix of blues -- royal, cobalt, indigo, azure, iris, cornflower, baby blue, navy...they're all good. Any blue and white color scheme is perfect for decorating any room, and that means it could be your go-to color combo to help stage your home.
I never tire of blue and white combinations in homes, and neither do most people. It's classic, but always on trend, and it's clean, but never sterile.
Add some blue and white transferware plates to a wall, and you've got yourself some instant classiness. Add white towels with bold blue stripes and your bathroom will sing. Add a pale blue and white dhurrie rug to a hallway, and you've upped the charm factor. Add a blue and white toile duvet and curtains in a bedroom, and well, you're home free.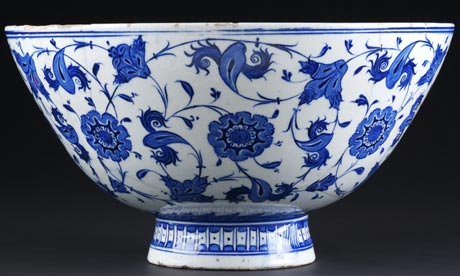 You can find pretty bowls likes this at most import stores.
Photo:static,guim.com
Without this blue rug, the room's furniture would be adrift. Photo:canadian house and home
via thirteen and south.blogspot.
Getting Art and Getting Inspired
Did you know that you can visit
www.art.com
and order artwork by color? Choose the size, style, content (landscape, abstract, whatever), and up pops all the choices!
If you want to get inspired in the blue and white vein, be sure to look at
Carolyne Roehm's book,
A Passion For Blue and White,
at bookstores and available from Amazon for about $40. If you're not a believer in the beauty of this color marriage-made-in-heaven, you will be when you've spent time with this gorgeous coffee table volume. Even though it was published two years ago, the prices for used editions are the same as new, further proof that this beautiful book is worth owning.
The Wrap
So, you've no excuse for being unable to choose a foolproof color scheme for staging your home.When in doubt, go with blue and white.
And for more advice about how to stage a mantel, tabletops, bathrooms, closets, bedrooms, kitchens, and even the front porch, download my
eBook
,
DIY Home Staging Tips to Sell Your Home Fast and for Top Dollar.